The Feel Better Test
An interactive tool developed by illuxi in partnership with The Société de transport de Montréal experts that will allow your employees and managers to self-assess their mental and overall health.
Each employee will receive a custom report along with personalized advice to help them increase their energy and boost their morale.
Use our tool in your company today!
"We're happy that the STM has made the Feel Better Test available at a time when mental health is a key priority in many companies and organizations"
Geneviève Desautels, President, illuxi
Step 1
We install the Feel Better Test in a dedicated space for your company with your colours and logo.
Step 2
We import your employee list. Each employee will receive a personalized email explaining the test benefits and inviting them to take it.
Step 3
Employees receives a custom report along with personalized advice to take action, increase their energy and boost their morale.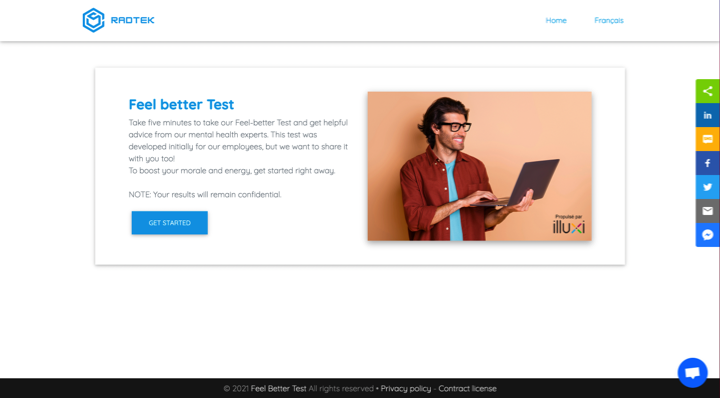 Data available
in real time *
Anonymous data collected on participants are available in real-time for authorized administrators on the illuxi platform.


*The results are confidential.
What is the STM's role?
The STM wrote the questions and produced most of the supplemental resources first for the benefit of its employees, managers and executives and now for the benefit of the general public, SMEs and large private and public organizations.
What does illuxi do?
Illuxi designs, produces, distributes and hosts e-learning products for executives and employees of organizations of all sizes. For this project, illuxi developed the Feel Good Test for mental health in the workplace with the STM.
What do we need to get started?
Your logo, colours and a list of your employees with their emails, first names and last names.
Improve your troops' morale
and give them more energy!
The Feel Good Test can be implemented in your organization in just a couple of days.